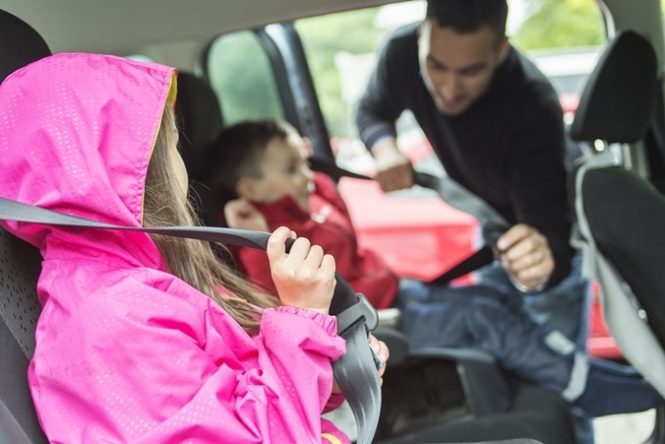 Road Safety
There are many rules that must be followed when you are driving. For example, you must:
wear your seatbelt
have your driver's licence and the car registration with you
do not hold, use or look at a cell phone (it is against the law - experienced drivers can use hands-free cell phones that can be operated by voice commands or with one touch)
obey speed limits – you may need to drive even slower depending on the road conditions
always slow to at least 60 km/hr (or less if the speed limit is lower) when workers are present in a highway work zone
obey traffic signals and traffic signs
at an intersection without traffic signs, yield to the car to your right
always pull over to the right as soon as it is safe when an ambulance, police car or firetruck with their siren on is approaching
signal and make sure it is safe before changing lanes
leave enough space between you and the car in front of you so that you can safely stop if required
give pedestrians the right of way
Never drive when you are distracted. You could be distracted by eating, changing music, texting or putting on makeup. Avoid driving when you are upset or overtired. Do not be impatient behind the wheel.
Winter Driving
Winter in Saskatchewan brings icy roads, poor visibility and snow ruts. Some days even a quick trip to the corner store can be a challenge. For safe winter driving remember:
leave lots of extra driving time – even driving the speed limit could be a traffic offence if it is too fast for the road conditions
take the time to clear your car of snow and ice – it is a traffic offence to drive a car when you cannot see out the windows on both sides, as well as the front and back
drive slow – stopping on snow takes four times longer and stopping on ice takes twelve times longer
stay well back from any snow plows in front of you – they will pull over periodically to let people get by
never leave your car running when you are not in it – your car could be stolen!
never leave children alone in a car - this is a safety hazard
do not run your car in idle-free zones or anywhere that is closed in – exhaust can cause serious harm or even death if a car is running in an enclosed space like a garage
Drugs, Alcohol and Driving
It is a serious crime to drive when your ability to drive is affected by alcohol or drugs. The amount of alcohol or drugs you have used does not matter. If you are not safe to drive you can be charged. For new drivers and anyone 21 or under, any amount of drugs or alcohol is illegal even if it does not affect their ability to drive.
The police can test you if they think you have been using drugs or drinking alcohol. They can test your ability to keep your balance, follow movement of an object and follow instructions. If you fail these tests they can require a blood, saliva or urine sample to test for drugs and alcohol.
There are also legal limits for the amount of alcohol that can be in your system. It is a crime to drive when your blood alcohol level is higher than the allowed limit, regardless of whether you can still drive safely or not. New drivers and anyone 21 or under cannot have any alcohol or drugs in their system. Experienced drivers must have a level below .04.
Police have a number of ways to check if people are over the legal limit for alcohol. They can use a roadside breath test that gives a pass or fail reading depending on whether the person is over the limit. They can use a breathalyzer that gives an exact blood alcohol level.
If you drive while impaired or over the legal limit there are serious consequences. These include losing your licence for a period of time, fines and possibly jail time.
Published on October 21, 2016.